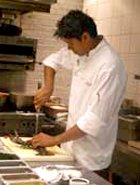 "There is no such thing as perfect food, only the idea of it. The real purpose is to make people happy, that is what cooking is all about."- Chef Thomas Keller of The French Laundry, per se, Bouchon, and Ad Hoc.
Year: Class of 2005
Occupation: Chef de Partie, Intercontinental Hotel
Home Town: Brampton, Ontario, Canada
Update from Richard Singh!
Richard was very fortunate to spend six weeks at the start of this year at Noma restaurant in Copenhagen, which is currently the #1 Restaurant in the world, for the second straight year. I am now Chef de Partie at The Fat Duck (*** Michelin since 2004, #1 Restaurant in the World 2005, currently #5).
What are some of the highlights of your career since graduation?
Currently I am a Chef de Partie at the Intercontinental Hotel Toronto. Most recently I had the opportunity and privilege to cook for U.S. President Barack Obama during his stay at our hotel for the G20 Summit. Prior to my employment with this company I held the position of Saucier/Tournant at rain restaurant in Toronto, under Chef Guy Rubino.
A Stage at one of the best restaurants in the world
I was also able to do a stage in July 2007 at Alinea restaurant in Chicago, Illinois. Alinea was recently named the 7th best restaurant in the World, on the San Pellegrino Top 50 Restaurants List, this placement also made Alinea the best restaurant in North America. Last July I did an application stage at Alinea, and was offered acceptance in their training program to further my knowledge and skills.
What are some contributors to your success?
The Chef Instructors at Le Cordon Bleu are intense, compassionate, understanding, respectful, professional and most importantly, honest. They always gave me constructive criticism to aid me in my progression.
Being trained in Classical French Cuisine at Le Cordon Bleu during an intensive nine month period helped to lay a strong foundation to my repertoire of skills.
Lastly, the reputation of the school precedes itself.When I graduated, I dropped off two resumes, and both were answered because of Le Cordon Bleu. During another job interview, I did not require Red Seal Certification, because of the reputation of Le Cordon Bleu.